Vic is the founding Senior Pastor at CCS. He has over 30 years experience in ministry, including 3½ years as worship pastor at Calvary Chapel Green Valley.
Jason and his wife JoEllen have a son, Lucas.
Worship Leader / Women's Ministry
Melanie served for 13 years on the worship team at Calvary Chapel Green Valley, in addition to leading women's Bible studies. She also taught 1st grade for 5 years, at Calvary Chapel Green Valley Christian Academy.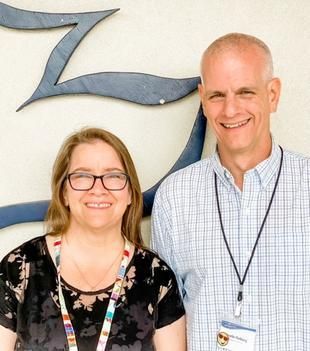 Children's Ministry Leaders
Charlie and Amy have been part of Calvary Kids since VBS in 2016, shortly after they started attending CCS. They have continued volunteering in VBS, and Charlie has taught Sunday School for three years.
Amy also leads the Scarlet Thread, the Calvary Chapel Sewing Ministry, and works with the Meals Ministry.
Charlie leads the Creative Arts Ministry i3 (Impact, Ignite, Illuminate), He also assists in the Middle School Ministry on Sunday evenings.



Ignite Youth and Middle School Ministry Leaders
Dan and Katie have two adult sons and daughter-in-loves along with two amazing grandsons. They have been involved with children's, middle school and youth ministry in some capacity for over 25 years.
Pastoral Assistant / Finance / Children's Ministry
Carol has worked over thirty years in the business community doing various finance and accounting duties. She is excited now to be using the skills and gifts that God has given her to serve the Body of Christ here at Calvary Chapel Summerville. She has also worked with children in various different capacities throughout her life and takes great joy in pouring into the lives of our younger generations.
Assistant to Melanie / Women's Ministry/Social Media / Administration
Dawn and her husband Brian have 5 children and 5 grandchildren. She has served as pastoral administrative assistant, Women's Ministry, Children and Youth Ministry, Worship Team and led Women's Bible studies over 20 years. She serves at CCS wherever needed.
Carol has over 10 years of hands on experience in office administration, human resources and church accounting.
Marcus has served as usher, greeter and sound booth technician in various churches over the past 10+ years in Summerville, SC before coming to Calvary Chapel Summerville. Marcus also edits and uploads the weekly sermons to the church website, sets-up and cleans-up for church functions, and assists with the church offerings. Marcus is widowed of 6+ years.